Learn about the types of blast nozzles and what they are used for.
Types of Blast Nozzle
Your Dustless Blasting machine will come with an SLV (Standard Long Venturi) nozzle, which is a good all-purpose nozzle. You can also purchase specialty nozzles which change the shape of the blast pattern.
All of our nozzles fit all of our machines. Changing them out is quick and easy. In fact, you don't even need to depressurize the machine! Just don't press the trigger while you're changing it.
SLV Nozzle

Wide spray pattern, like a shotgun
Large blast pattern with a "hot spot" in the center

ST Nozzle

Straight bore nozzle
More precision blast pattern
Like a rifle instead of a shotgun

Fan Nozzle

Spreads blast pattern out to cover a rectangular area
Perfect for brush blasting
Low impact compared to other nozzles

HV Nozzle

Pulls ambient air in at the nozzle to give it an extra "kick"
Great for soda blasting

XL Performance Nozzle

Speeds the blast velocity up a the nozzle
Great if you need a bit more performance from your compressor
Purchase specialty blast nozzles in the Dustless Blasting Parts Store.
What size nozzle do I need?
Check out the nozzle air consumption chart to figure out which nozzle size is appropriate for your air compressor.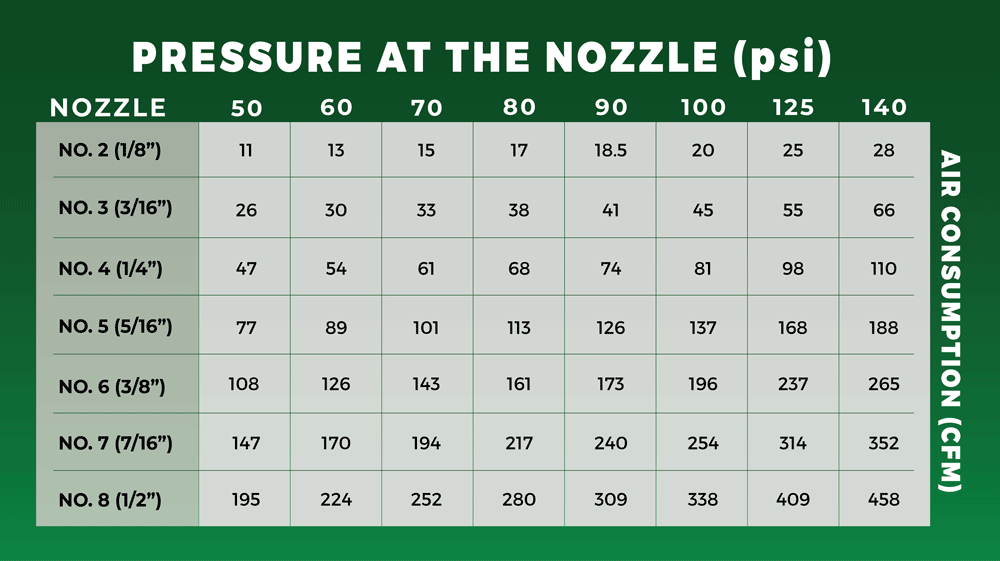 Download and view a more complete version of the nozzle air flow chart by clicking here.
How to Check Nozzle Wear
The Drill Bit Test
You can use a drill bit to measure wear. The number size represents 1/16" increments. So if you have a #5 nozzle, a 5/16" drill bit will fit inside it. And if you have a #6 nozzle, a 3/8" drill bit will fit inside it.
Check nozzle wear with the drill bit test. If a 3/8" drill bit will pass through your #5 nozzle, it is now worn down to a number 6. If a 7/16" bit fits through it, its now a number 7 and so on.
Can you still use a worn out nozzle?
It depends on what compressor you have. A 185 CFM compressor will run a #5 or a #6. So if your 5 is opened up to a 6, you can still use it. But if the 6 opens up to a 7, you'll start losing pressure. If you need to maintain a high running pressure, you'll want to get a new nozzle. Purchase replacement blast nozzles here.
Nozzle Lifespan
The SLV nozzles we supply with the machines are Tungsten Carbide. Using the system wet, they last a very long time — years of life. Because water eliminates the friction, there is very little wear on the nozzle.
It's difficult to put an exact life expectancy on them because of how different each operator will use them. Wet or dry blasting, differences in grit size and aggressiveness, and many other factors will affect the lifespan. But if you use the system wet, you can expect to keep the same nozzle for a very long time.
More Information
View the Kennametal catalog which compares lots of nozzle types and shows cross-section diagrams of each.