Etching custom signs or monuments can be a great way to add revenue streams to your blasting business.
The Dustless Blaster can etch designs into many surfaces, including stone, granite, wood, and concrete. Whether you're etching a business's logo into the pavement in front of their shop, or creating a one-of-a-kind wooden sign, etching can be a great service to offer.
Stencils
Vinyl stencils
Try contacting a local sign shop, who may be able to cut a stencil for you. There is a particular material called "sandblasting stencil" or "sandblasting vinyl" that works well. It has a strong adhesive backing, and is thick enough to hold up to the forces exerted by blasting.
Vinyl is a great choice for fine details, especially on a smooth substrate like granite. You need it to adhere well so your lines come out crisp.
One of our contractors says this:
"I use a local stone engraver, he has the 3M rubber blast stencil. I send him the art and he cuts it on his plotter. Usually runs me between $50 to $75 to have him cut the stencil. Be careful laying it out because it can stick to itself. After you lay out the stencil, use a rubber roller and roll over it several times."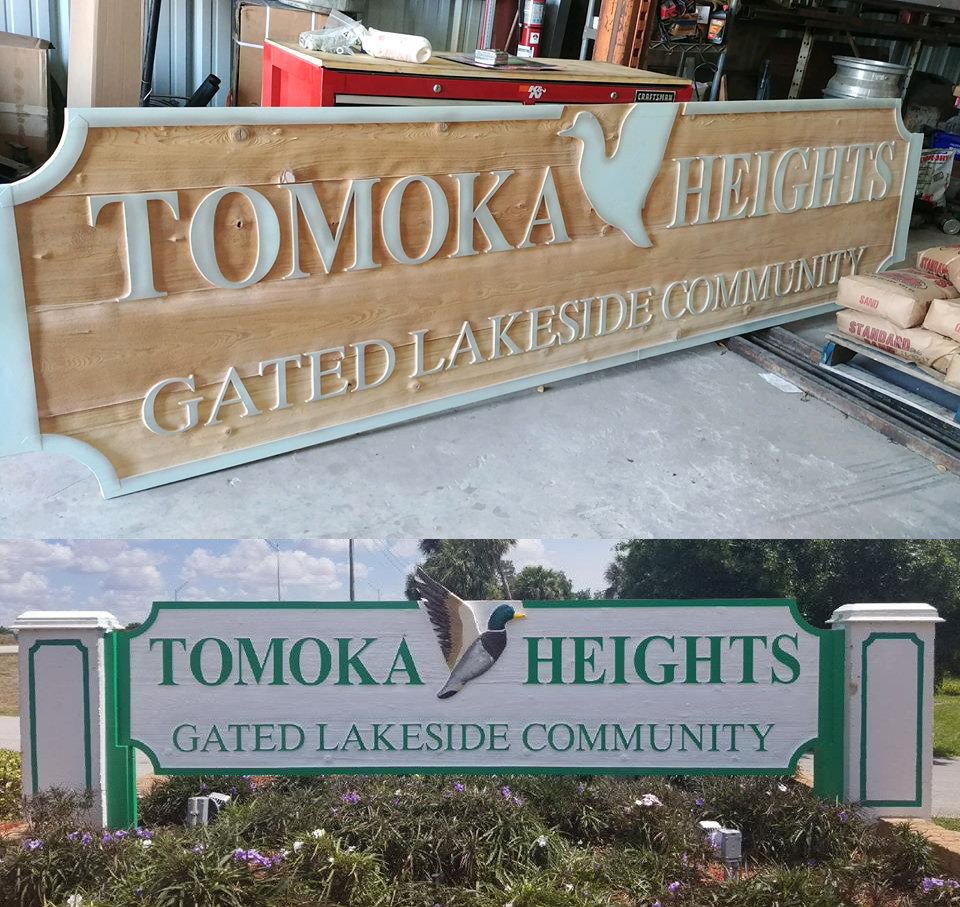 Above is an example of a vinyl stencil on wood. Photo credit: Frankie Lane.
Here is a great video from Jason's Technique of the Week showing the vinyl stencil process from start to finish.
Metal stencils
You can also use a metal stencil. This is especially good if you can lay it on the ground — the weight of the metal helps hold it in place. You can also use a broom handle, weights, clamps, or your foot to help hold it down.

Above is an example of a metal stencil on concrete. Photo credit: Peedee's Dustless Blasting.
Plastic stencils
We see this less often, but some contractors have used thin plastic sheets as stencils. There is no adhesive on the back of this plastic like there is on the vinyl. These stencils are similar to the metal stencils above because they will need to be weighted down during blasting.

Above is an example of a plastic stencil on concrete. Photo credit: Jim Downey.
Abrasive
Pick a dense, angular abrasive which will cut into the substrate. This allows you to make fewer passes over the surface. The longer you take, the greater the chance that your stencil will move or shift, ruining the image. Generally, 40/70 recycled bottle glass will work fine for etching.
If crushed glass is not working fast enough, you might try garnet. It's a dense abrasive which will give you more cutting power.
Blasting
This can vary based on many factors, including your substrate and stencil. However, especially if you are wet blasting, a good rule of thumb is to use high pressure and not linger too long in one area. If the stencil is vinyl and it gets too wet, the adhesive could lift away.
Here's what some of our contractors say:
"Blast at about 80 psi at about a foot away. Be quick and deliberate in each letter, don't go back over it a bunch as it will start to lift the stencil. After you blast, blow it off to remove any dust etc."
"Done lots of them, dry glass 30/60 or 40/70 at 90-100 psi hit it straight on not at an angle."
"Yep done them, and used the 70/100 fine glass dry. Antique cedar chest and it came out perfect, no etching"
"I use a blasting stencil, and have a sign company cut out the names leaving the letters exposed. Put the stencil on the bricks, blast till the letters are deep enough, blow off and paint. Once dry, remove stencils."
Painting
Sometimes, you might paint the area that has been blasted to add contrast. Multiple thin coats of paint tend to work better than thick ones. Monument paint is formulated to last outdoors for a long time.
Especially if you are blasting a textured surface like concrete, be sure you use thicker (viscous) paint as thin paint may be affected by capillary action.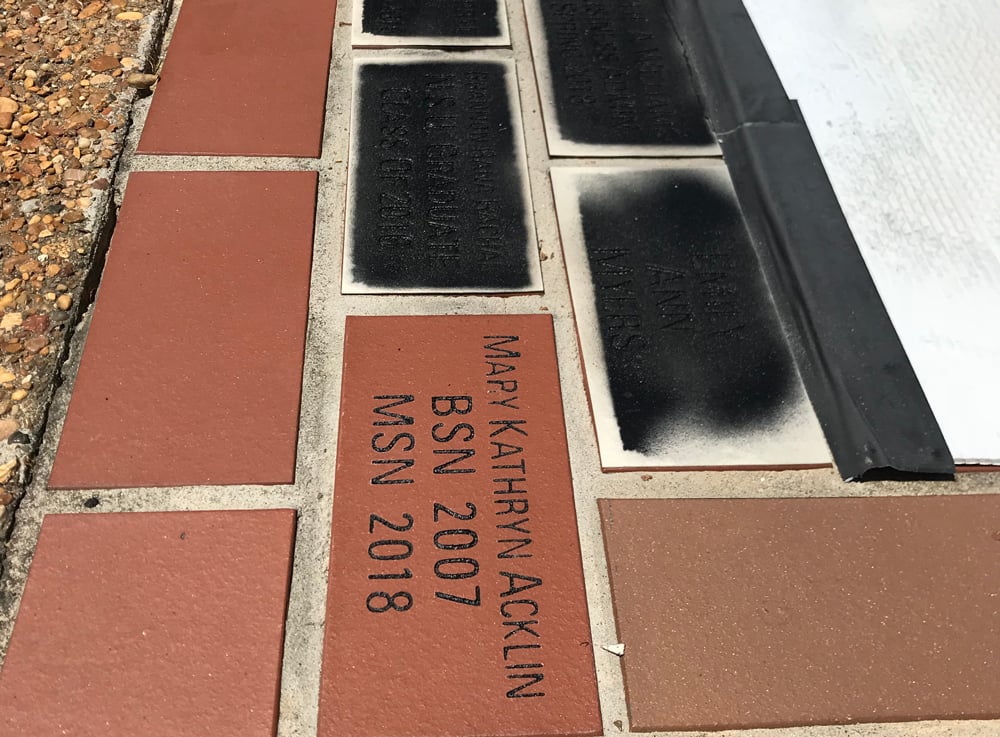 Above is an example of painting the etched area. Photo credit: Blast Works, LLC.
Additional examples: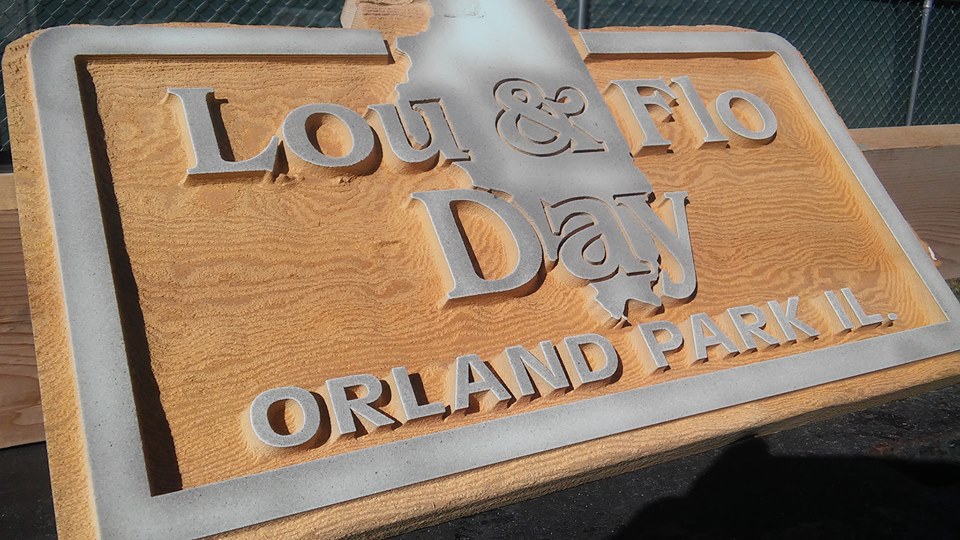 Vinyl stencil on wood. Photo credit: Frankie Lane.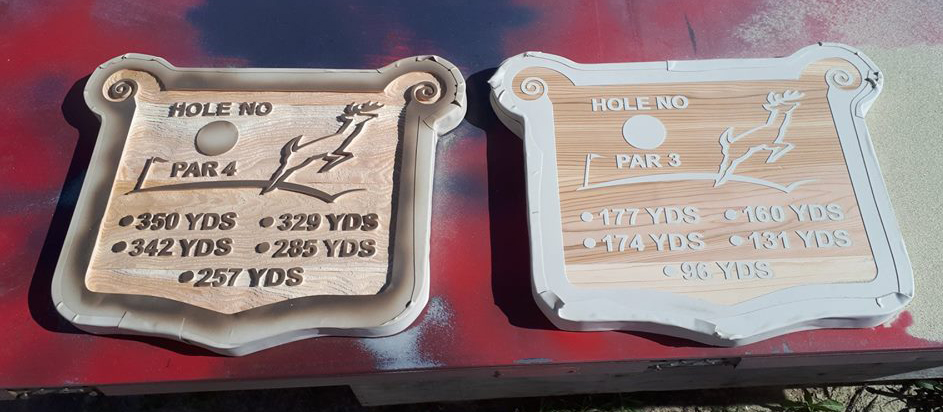 Vinyl stencil on wood. Photo credit: Jim Downey.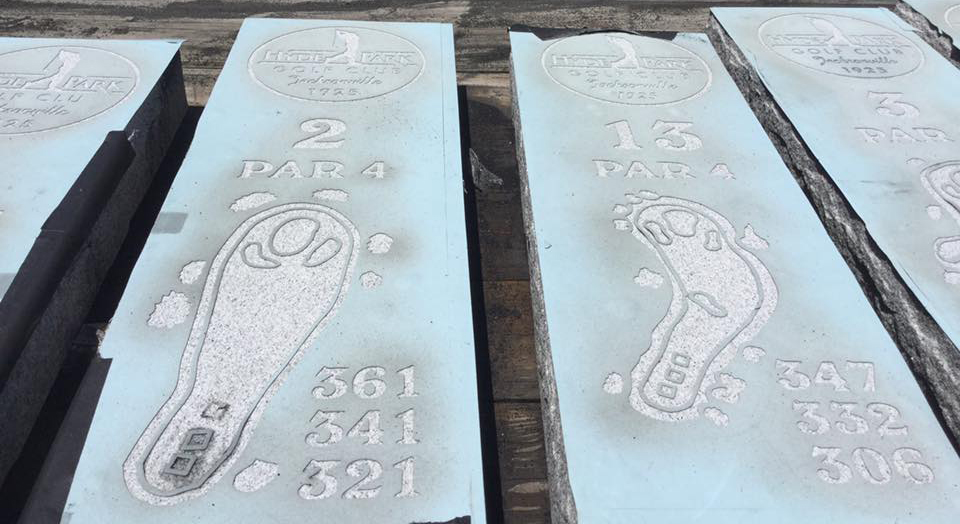 Vinyl stencil on concrete. Photo credit: Blast Off Mobile Blasting.

Vinyl stencil on granite. Photo credit: Blast Works, LLC.