Google is a powerful tool to reach thousands of potential customers in your area.
"If you're searching for something, product, service, etc where do you start? Most people I know start with Google. If you have a website, start with Google Ads."
— Victor F, Business Owner
What are Google Ads?
Google Ads are a service that lets you target specific keywords or keyword phrases, and shows your ad to the people who are searching for those terms.
This way, your business is shown to the exact people who are the most likely to become your customers.
The good thing about this service is that the ads look very similar to regular search results, so people know it corresponds to what they're looking for, rather than unsolicited stuff they don't care about.
What does a Google Ad look like?
A Google Ad looks very similar to a search result, but it's generally located in a favorable position of the page, such as at the very top. Here's a full explanation.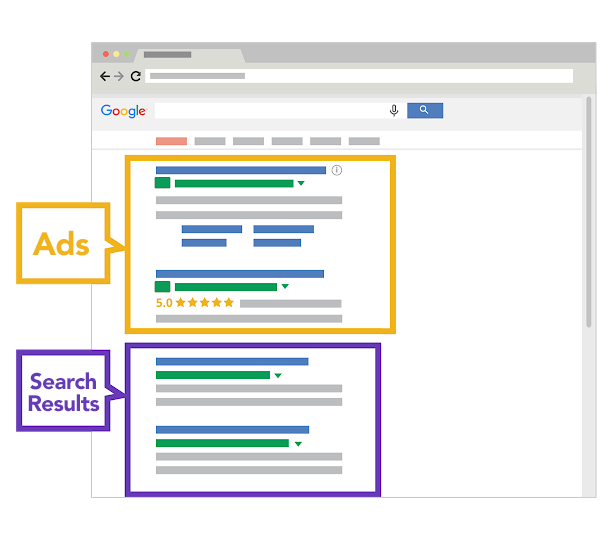 How we help.
The Dustless Blasting® Premium Online Presence™ already includes a 3-month, $1500 value advertising campaign that we'll set up and manage for you.
We set up the area in which to display your ad, which includes your immediate area and surrounding cities.
Then, our advertising experts pick the keywords that perform best for you, as well as monitor and optimize your campaign over its lifetime. If you'd like to specifically target (or not target) a certain industry, we'll adjust your keywords to match.
Sounds easy, but we know it isn't. We know your time is valuable, especially when launching a business. When you leave the advertising to us, you can stop worrying, and just focus on delivering exceptional service.
"With Google AdWords I was getting calls constantly."
— Frank K, Business Owner
FAQ
What happens after 3 months?
After the initial 3-month advertising period has concluded, you can renew your ads at any time with an add-on package.
This is not an ongoing subscription — you're only charged for the package you select.
What if I only have the Basic Online Presence™?
You can supplement the Basic Online Presence™ with a Bronze or Silver add-on package.
Who can use these marketing services?
Anyone who owns a new or used* mobile Dustless Blasting® unit can purchase an Online Presence Marketing Package.
Ready to begin?
If you're ready to digitally promote your business to 170,000+ people,** learn more here!
*Equipment ownership will be verified with a serial number.
**Reach is approximate and can depend on several factors such as your location and keywords.