Professional-quality photos and videos can convince people to choose you for the job.
Why do I need to take photos and videos of my work?
What caught your eye when you first found out about Dustless Blasting? It was probably the videos, right? You can use this to your advantage with YOUR customers, too.
Taking photos and videos lets potential customers see the quality of your work — so they know they can trust you with the job.
Another essential component is the Premium Online Presence. It gives you a professional website and business social media profiles — You can have the greatest photos in the world, but you still need a place to share them.
What kind of camera do I need?
The good news is that you don't need any special gear. It's easy to take great photos and videos with just a cell phone. This also makes it really easy to share your work straight to social media.
Another idea we like is using a GoPro. They're pretty indestructible and you don't have to worry about getting them dirty.
How do I get take good photos and videos?
Lighting
Make sure that you are in a well-lit area, so the camera can clearly see what you are blasting and the results you are getting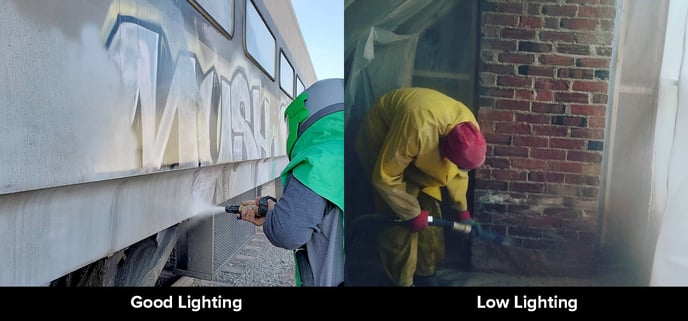 (Photo credit: finelineblasting and dustfreeblasting_canada)
Contrast
Blasting footage tends to be the most eye-catching when you are removing something with lots of contrast (e.g. bright red paint is easier to see removal vs. grey paint)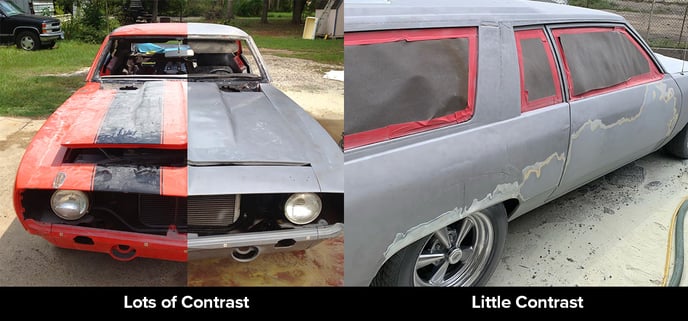 (Photo credit: blastekblasting)
Framing/Angles
Blast at an angle instead of straight on, so your body and the blast hose do not block what is happening.
(Photo credit: Waves to Wheels)
It's great to have shots where the camera is pointed directly at you. However, mixing in more artistic shots can make your video look more professional. If you know someone who has a great artistic eye — maybe a wife, friend, or relative, ask for their help!
PPE
Whenever you are blasting, always wear all proper safety equipment. This includes eye, hand and ear protection. This means at least but not limited to safety glasses/ face shield, leather gloves, and ear plugs or earmuffs.
Wearing proper safety equipment is not just for your own well being, but also lets your future customers know that you have good judgment and alway come ready and prepared.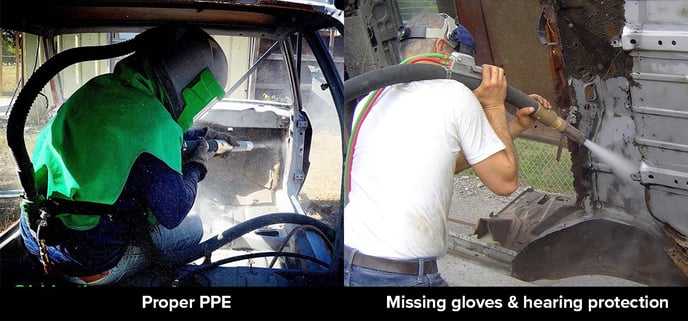 (Photo credit: jrblasting and Bulldog's Auto Body & Glass)
Orientation
YouTube
If you plan to upload your video to Youtube, make sure to hold your phone sideways (landscape). This will make your video fit better in the screen.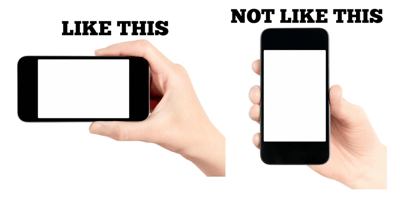 Facebook and Instagram
If you plan to upload your video to Facebook, using vertical (portrait) orientation is encouraged.
What kinds of photos should I take?
Before and After Photos
This kind of photo is great for building a portfolio of your work. Try your best to take all pictures at the same angle.

(Photo credit: mobile_dust_free_blasting)
Action Shots
Get some action shots of your helper blasting, or ask someone to take a picture of you in action.
What kinds of videos should I take?
Time Lapse Videos
These videos let your customers see the project quickly go from start to finish. Here are instructions for taking a time lapse video on an iPhone.
(Video credit: cleanworksmobilemediablasting)
"Oddly Satisfying" Blasting Footage
Show off just how quickly you can remove paint and coatings. It makes for a great, eye-catching video.
(Video credit: American Power Washing)
Describe the Project
Try panning around the project and talking about how you plan to tackle it.
Now what should I do with the pictures/footage?
If you have the Premium Online Presence, you can upload the photos to us (or just email us!) and we'll add them to your website.
You should also post the photos to your Facebook and Instagram profiles (both of these profiles are included with the Premium Online Presence)!
We are proud to be your partner in marketing your business and getting your name out there.