These businesses represent only a fraction of your potential customers, but can give you some ideas.
Who can I reach out to?
Local businesses need your services, and are a great way to secure ongoing work and create mutually beneficial relationships. So who can you try reaching out to? Here are a few ideas.
Powder Coating Companies
Powder coating companies may need to:
Remove failed or unwanted coatings
Create an anchor profile for new coatings to adhere to
Your business offers a safer and cheaper alternative to traditional methods, such as caustic (dangerous and difficult) or burning coatings off (expensive).
"Look into working with powder coating companies...a lot of them farm out their blasting work."
— Whitney M, Business Owner
Municipalities / Government
Cities, counties and states have a lot of maintenance to handle. Many of our business owners have secured contracts on jobs such as:
Stripping fire hydrants and manhole covers
Stripping curb paint and road stripes
Removing graffiti from public buildings and parks
Find these opportunities by getting in contact with towns and cities near you.
Other possibilities are websites like Fed Biz Opps* (Federal Business Opportunities). This is where contracting officers will post opportunities that are valued at over $25,000. These listings will mention the requirements of how to bid on the job.
*Fed Biz Opps is merely a suggestion, and is not affiliated with or endorsed by MMLJ Inc.
"We are small town also so I looked on the Chamber of Commerce website and mailed information about our services to several businesses. Got a call in a few days from the city with a job."
— Kelly K, Business Owner
"Are you hitting your local government offices up? DOT, City and State for buildings, road striping removal, fire hydrants blast and paint, equipment."
— Joseph O, Business Owner
Fire Restoration
Connect with local companies that do clean up and fire restoration. With the use of our ADCS, you can incorporate soda blasting, enabling you to clean up the fire damage and deodorize at the same time.
"Talk with your local fire department. Most of them have a hand out packet that help people find providers of clean up services."
— Randall C, Business Owner
Pressure Washing / Power Washing Companies
Call local power or pressure washing businesses and talk about teaming up for projects. Pressure washing can be time consuming and wasteful, but by incorporating Dustless Blasting, they could get through projects in half the time. Likewise, you can share info on jobs that require a good rinse.
"...I made contact with some local pressure washing companies. They refer me business and I refer them. Don't look at pressure washers as competition, look at them as part of your network."
— Mike S, Business Owner
Other Sand Blasters
"I also have a working relationship with another local blaster. As a matter of fact, we are teaming up next week to work a large project together."
— Robert H, Business Owner
Equipment Rental Companies
"...try equipment rental places, sometimes they are looking to get old equipment ready to sell. Or, if they do not rent sand blasters, they will give folks your information."
— Scott F, Business Owner
Swimming Pool Companies
When pools need to be re-painted or re-plastered, the old coatings must be removed. Let pool companies know that you are available for this service.
Property Management Companies
"[Seek out] companies that manage residential and commercial properties. Condos, private gated communities, industrial spaces etc. Every one of their properties needs our services in one way or another. Curb paint removal/repaint, concrete cleaning/etching (i.e, slick concrete is a potential liability) graffiti removal etc. Usually if you just Google property management companies in your area you will find them."
— Scott W, Business Owner
Real Estate Agents
Instead of knocking on the doors in a neighborhood, make connections within the real estate business. Real estate agents might know of dozens of new homeowners who need your services.
Other Contractors
Blasting can go hand in hand with other services.
"I've removed a lot of over spray from asphalt contractors. Kinda follow them around...those contractors get caught in the rain, wind or their guys screw up...someone has to clean it up. They are a great source of income. We get regular calls to clean up their mess. You should solicit them to be the go to company."
— Patrick G, Business Owner
Construction Companies
"Talk to large construction companies to either get on their sub-contractor lists or to blast their equipment as part of a maintenance program."
— Whitney M, Business Owner
And Countless More
Auto Body and Custom Shops
Painting Companies
Concrete and Sealer Companies
Decorative Concrete Supply Companies
Paving and Road Marking Companies
Waste Management Companies
Industrial Parks
General Contractors
This list only represents a small number of the kinds of businesses that can use your blasting services, but hopefully it can spark some ideas.
"Trust me, the business is out there. You just have to keep reminding people you're around so they come to you when something comes up."
— Simon J, Business Owner
Next Steps
Now that you have identified these potential customers, it's time to reach out to them.
Dustless Blasting Marketing Services help make this simple. Just grab a trifold brochure that correlates to your potential customer's industry, and use it while you speak to them. Ask the potential customer about specific problems they might encounter, and propose how your equipment can solve it.
Many potential clients have zero clue that a service like yours exists. Professional marketing materials are a great way to educate them and make your pitch that much easier.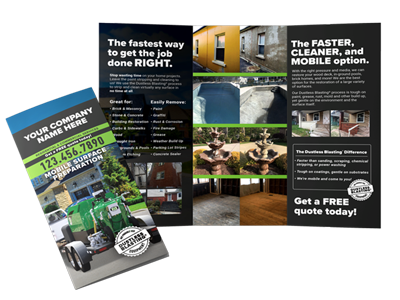 Want to know more? Read our step-by-step guide on how to reach out to these potential customers.